Customer reviews of Shelves that Slide (for more comments see our testimonial page)

Couldn't be more pleased! I took your website advice and only ordered one Premium shelf since I was a little skeptical about both your quality and ease of installation. Well, I was extremely pleased on both counts and so I ordered six more. They came and were quickly installed in my kitchen. (I even thought the installation was kind of fun!) The shelf construction is first-rate and they look great with the nice lacquer finish. It sure is nice to do business with a company that makes such a nice product - your pride is well-deserved.
Robert Yountz
Hickory, NC

p.s. I should say my husband installed the rest of the sliders yesterday and I absolutely love them!
Now my cabinets are organized and I can see what I've got in there. Makes cooking a much more enjoyable task.

Theresa

Hi Steve & Doug,

My order of 10 shelves came in 2 boxes. One box included a pack of screws and 10 door protectors. The other box did not. I thought the other box should contain another pack of screws and 10 more door protectors and called to get more. It wasn't until I began installing the shelves that I realized my mistake.

BTW - the shelves are fantastic. My wife says she loves them. Happy wife...

Thanks,
Jeff Robertson

Got my shelves at 330 and had them in by 430. Love them already!!
From Jeanne's iPhone

I received your product this pas Friday and installed the product on Saturday. I had ordered 2 slide out shelves for pots and pans. The quality was excellent and the install was fast. I plan to order more for other cabinets.
Greg Dietrich

Thank you for this terrific product. My wife and I installed ours this morning. We bought (order number 48827) three Newline sliding shelf systems and followed your invaluable directions. Took us a couple of hours. The most difficulty was in preparing the pantry cabinet to receive the slide outs. We had to remove the adjustable shelves and trim them about an eighth of an inch; and we had to bore out the quarter-inch shelf-clip holes so the shelf clips would fit deeply enough. Once all that was done, assembling the guides to the adjustable shelves was the easy part.
George and Nancy Ford

I just wanted to Thank You for the selves that I ordered. I installed three of them in about 1 1/2 hour and used the suggest of using tape to hold them in place and it worked great. Very Pleased with the product and if I need more I know just where to go and will refer friends to you. Thank You Gary H. Ayers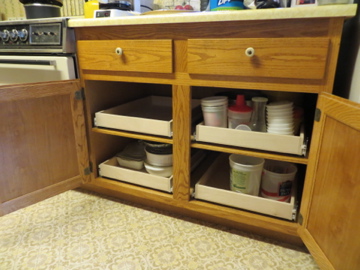 Steve,
We received our shelve order on the 20th, and I completed the installation on the 23rd. We are pleased. It will make our trips to the cupboard much more pleasant. I have attached a photo of our project.
Edd B,

Thanks, everything else is just fine. Your drawers are very well made and have made such a difference in my cabinets. As a person gets older it gets harder to get down to get what is in the back on those little half shelves. Thank you.
Lana

We installed the sliding shelved in our previous house. After we moved here, my wife missed them so much she asked me to order them again! They installed like a dream and look great, too.
Thanks!
Jerry Dykstra

Hello: Just wanted to say thank you for fine products, fast shipping, fantastically packed boxes, and instructions that were great! I have been re-building a condo for my sister-in-law [wheelchair], and put the pull-out shelves in the kitchen.
We are very pleased with the products and wanted to send our THANK YOU to you all! See photos.
Jerry Davis [buyer] Kathy Salkin [ sister-in-law ]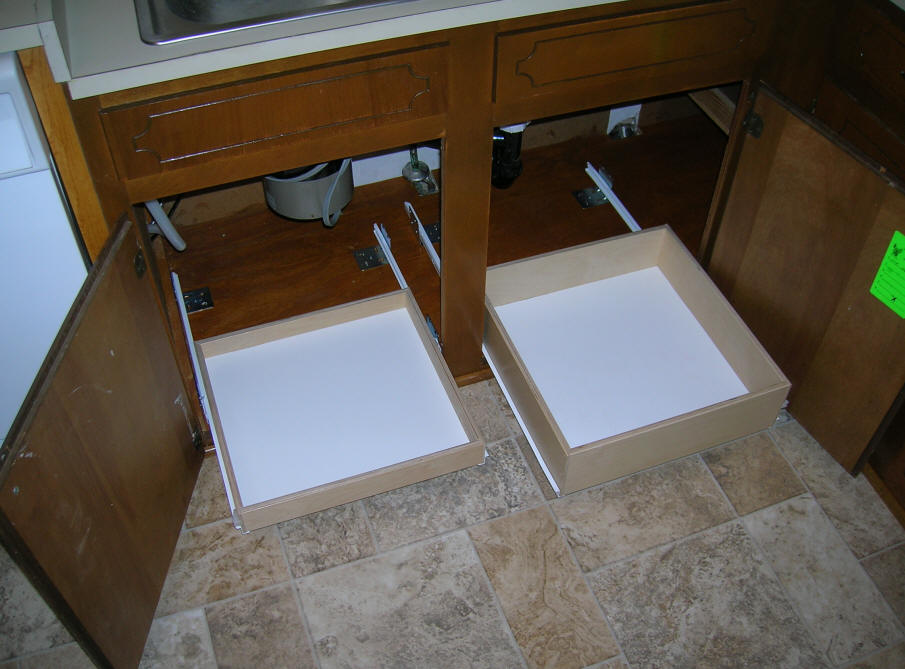 Pull out shelves Kitchen Cabinets