Customer reviews of Shelves that Slide (for more comments see our testimonial page)

(These are actual testimonials from our customers)

Steve, absolutely love the pantry shelves. Was so easy to install! I would like to install the more in my kitchen. I have a base cabinet that opens from both sides. Do you make a slide that pulls from both sides?
Shelby

Hi Steve,
I just wanted you to know that the shelves arrived today. Perfectly cut and fitted. Hung the two shelves in about 30m. They look and work great!
Thanks!
-George Cooke

Hello,
My shelves got here yesterday and I installed them. I just wanted to send a note and say thank you! They really exceeded my expectations, they're solid, well made, and solved my problem exactly. I really appreciate a real solid product.
Cheers,
Kate

Thanks Steve~ We got them installed and they are GREAT!! Will be ordering a few more!

I bought and installed seven of your shelves. At first I ordered just two to check them out. They arrived with roller damage to two sliders thanks to rough handling on the way. You immediately sent new sliders, no questions asked. I was impressed with your shelves and with the service so I ordered more.
I think I read someplace that it should take about five minutes to install one shelf. That may be true if you are not a 79 year old man whose body doesn't want to kneel on the floor with head and shoulders buried in a cabinet at awkward angles! It took me considerably longer but by gosh I did it.
I am pleased with myself and especially pleased with the shelves. Most anyone can do this. Just take plenty of time, being careful to follow instructions which are really pretty simple. I highly recommend your product and and am impressed with your service. One company I got an estimate from would have charged me over five times as much to do the job. Thanks so much!
God bless...
Bob Johnson

Just a short note to you.......back in April of 2009 we ordered and installed four of your premium sliding shelves in our home in Newport, Oregon. Perfect fit, installation, and those shelves are working perfectly today. In August, 2013 we moved to Sparks, Nevada, bought a home with NO sliding shelves in the kitchen cabinets. So.....we ordered 20 sliding shelves from you, and I've just finished installing the last one.....my wife is very happy, I'm pleased with my work, and your product is by far the best on the market! Everything was accurately manufactured, fit perfectly, and I installed all 20 units in less than a week. Pretty good for an 80 year old self-handyman, wouldn't you say? The shelves arrived in perfect condition; same great quality, and your packing is great, which shows a real interest in delivering your product as advertised! GOOD JOB!
Thanks for the accuracy and quality of your product. As we show off our new sliding shelves to the neighbors and family, we'll definitely recommend your company to anyone interested in a fine USA product. THANKS.
Pat McKoy

The slide out shelves arrived yesterday and today they are installed! They were so easy to install and make such a difference in our kitchen storage. The quality is excellent; I would highly recommend these...thank you.

Susan Ryan

I just received my order yesterday and installed my shelves today, It took about 1/2 hour and was really easy; I went from your instructions of start at the right and they went right in. I love them; I like that they are not painted so I can decided what finish to be on them later. I will recommend them to everyone,. Thanks for a great product.

Lisa M Adams
Port Huron, MI.

my husband and I age 63 and67 just installed our shelf. It was a piece of cake. Thank you so much for this product. It is worth every cent.
Millie Hammel FL

Have your ears been burning ?? I have been online/ on the phone all weekend bragging about my wonderful shelves that slide that we just installed.
they look fabulous and I have to say worked well for retro fitting into cupboards in a 1920's Colonial home.
Good job to all those who made them - we will be ordering more.
Thanks again
Teri Martin



Click on the pictures for a larger view

Hi Steve,
Just a quick note to say thank you for allowing me to order the custom shelf.
I ordered via phone on Aug 12th and just received it today from UPS.
It is perfect and should work exactly as I had hoped.
Thanks again,
- Brian

Dear Shelves That Slide:
I've received and installed the two beautiful premium shelves that you provided; they work perfectly. The instructions for measuring, ordering and installing were easy to understand and follow. The only problem I've encountered is that I only received 3 "white plastic things" and I needed 4. Could you send me 1 additional white plastic thing?
Thank you:
Don Milligan

Nancy Rose loved her new shelves so much she had to send us the before and after pictures

I just wanted you to see how well your custom shelves worked for me. I got the measurements right and my 50 yr old Habitat builder daughter shimmed the hinge side with some wooden blind slats I had saved.

Sent the "after" pictures separately, from a different device, the tablet with the camera.

Thank you so much!



<![if !vml]>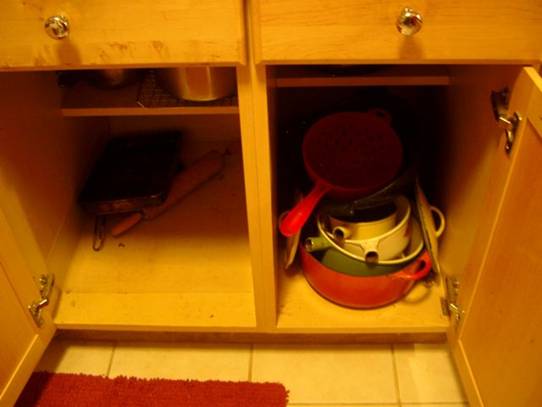 <![endif]>
Before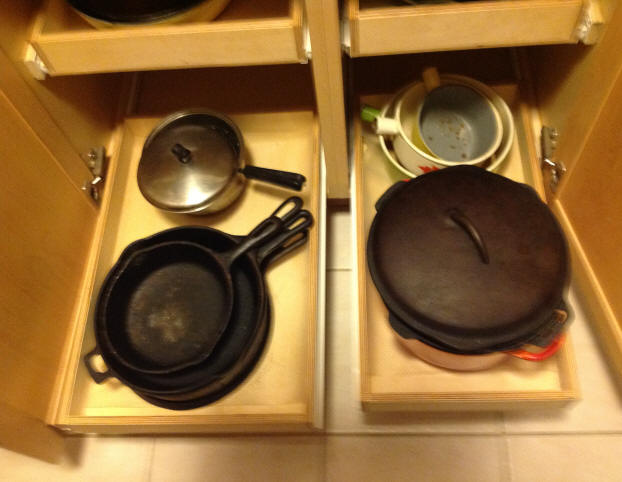 After - Lower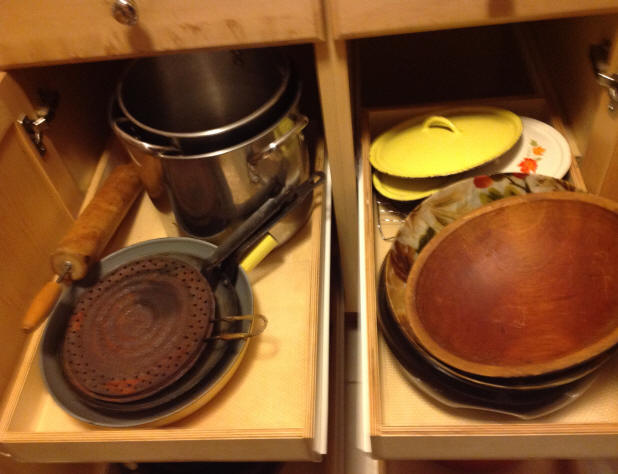 Upper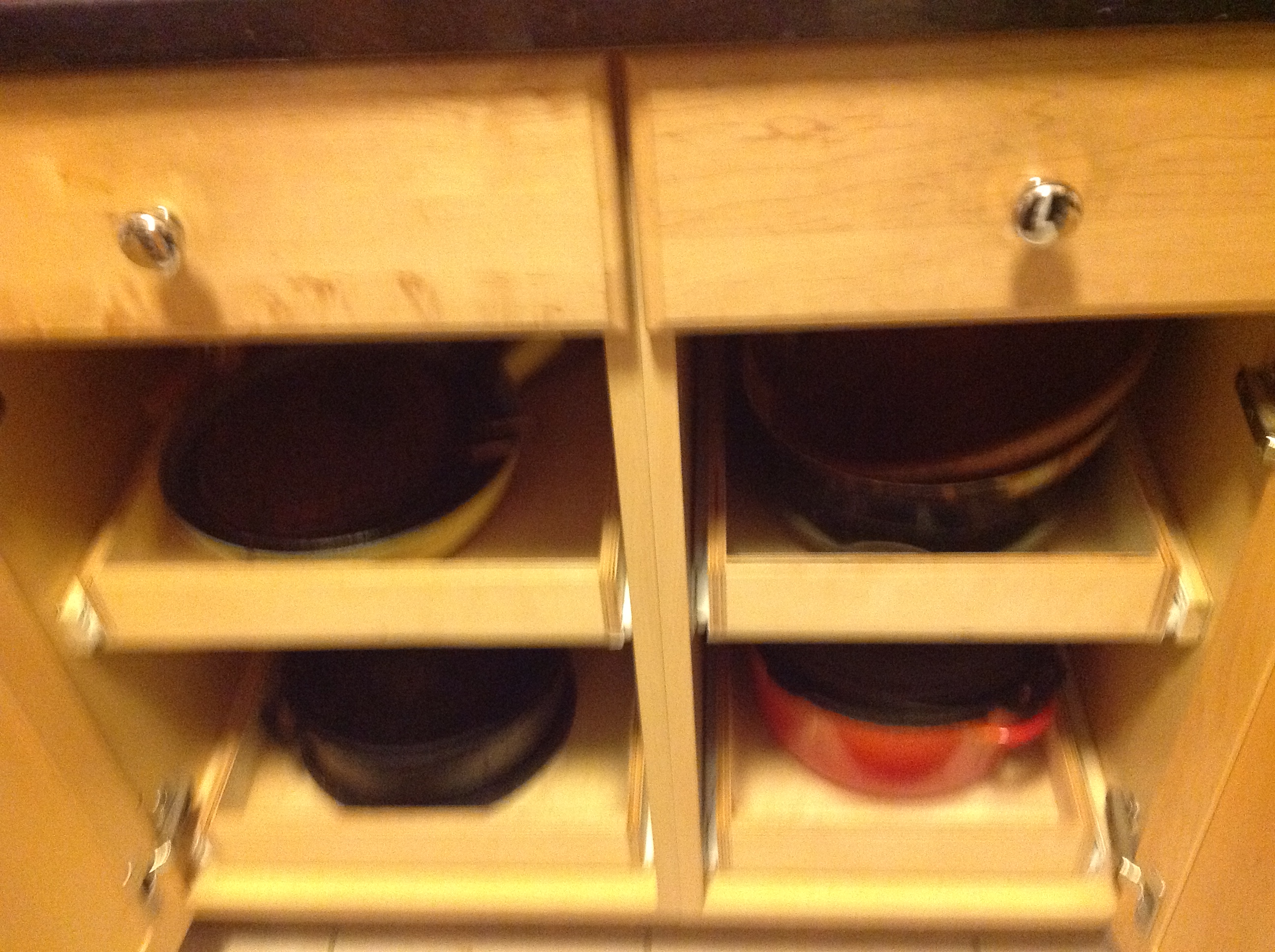 Closed - twice the space

Thanks so much for your speedy production and quality work. It took me awhile to find you online. I will recommend you to anyone and everyone who is looking for shelves that slide. Your shelves have helped me reach items that had been long forgotten since we moved to our house 23 years ago. These make so much sense-Thanks for making them!

Have your ears been burning ?? I have been online/ on the phone all weekend bragging about my wonderful shelves that slide that we just installed.
they look fabulous and I have to say worked well for retro fitting into cupboards in a 1920's Colonial home.
Good job to all those who made them - we will be ordering more.
Thanks again
Teri Martin

Hi Steve,
sorry for the tardiness of this message. Just a note to let you know that I was very satisfied with the quality, value and service of your product and your company. I've shown your installed shelves to friends and they were equally impressed. They told me they'll keep you in mind for their next project.
Thanks again. Keep up the good work,
Sincerely,
John Codiglia

received and installed. thanks, they work great.
Tracey Grossi


Hello Steve,
I received a call from your company earlier and got the payment for "recut" items square away. Thank you for taking care of that!
Your staff said that the "re-cut" shelves are going out today.
Anyway, I love the results of my slide out shelves and have had many compliments! I would highly recommend "shelvesthatslide.com" to anyone!
Best regards,
Suphakarn

I would like to thank you for our shelving. I installed all four, the first two, 2 hours, last two one hour, with marginal bad words.
They have made a huge difference, more space, no climbing into the back.
The only downside was the brokerage fees from the border crossing.
Thanks again, Steve

Hi Steve, our shelves came Tuesday, April 23rd. We put two of the six in that afternoon. Then we rested a day! (we're older---so it was an effort getting down on the floor and trying to hold one thing while marking something or putting in screws) Today we put in the other 4. The four were much easier---we learned from the first two. We had 3 half-shelf and 3 bottoms shelves to do.
They are now all in and we love them! Somewhere I read they were 5 minute installation. I don't think even someone who is 25 could do these in 5 minutes, but I will say that it took less than 2 hours to do the 4 today.
I am so happy to not have to get down on my knees to get the stuff at the back on the bottom of the cupboard. Now I can just roll that baby out and pick up what I need---yay!!!
Thank you so much--they all fit perfectly!
The ironic thing about these shelves is that I wanted these in our last house and we never got around to getting them---we lived in Mesa! Now, here we are clear up in Nebraska and our shelves come from Phoenix!
Thanks so much for the great service. You need someone who knows punctuation to make some improvements in those instructions, though! A couple of places are very confusing because commas were left out. Also, there were places where the sentence should have ended, but it didn't.
We will enjoy the shelves!
Jill Brandt

I wanted to email you a testimonial about your fabulous product!
In a single afternoon, my husband and I were able to install 6 awesome sliding drawers in our kitchen cabinets. Most people would not be impressed to hear how easy installation is without understanding I was able to installed these while being 9 months pregnant!!! The base-mounted premium sliding drawers are very simple, straight-forward and well designed for do-it-yourself installation. I did the easy placement of the "L" bracket slides on the cabinet bases and existing cabinet shelves and my husband did the and drawer lifting and placement. Shelves That Slide's premium pull-out drawers are beautifully finished and 100% more convenient to use than my regular cabinet shelves! Before ordering from shelvesthatslide.com, I had received a quote from a custom sliding shelf/drawer company for $3000 to install 6 sliding drawers in my 36" wide kitchen cabinets. I was very pleased to find I could install the same quality and quantity of sliding drawers in my cabinets for 10% of the cost the custom sliding shelf/drawer company would have charged! Thank so much, Shelves That Slide!!!
Sincerely,
Lisa S.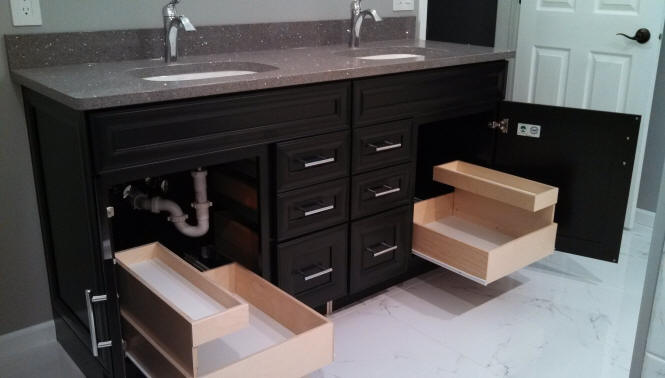 Just wanted to send a quick note with pictures and express how pleased I am with the quality of your product. You didn't have any bathroom vanity shots so here you go. Measured and installed myself, they're just what I wanted. Better than wire, complements the cabinet drawers, fits the full width with caddies, solid construction, quick turnaround and a reasonable price.

Thanks again,
Mark
Suburban Chicago

Pull out shelves Kitchen Cabinets