Received my order of sliding shelves the other day and quickly installed the shelves with no problems.
Installation was simple and the custom ordered shelves were perfect.
Thomas S - Ohio
---
Dear Shelves that Slide,

My wife and I were searching for pre-made storage solutions for some of our harder to access kitchen cabinets. I searched the home improvement outfits online, and found nothing suitable. Then we visited the typical home accessory stores, but were disappointed again. For one, everything was made in, you guessed it, China, and secondly we would have had to compromise in some way in shape, size, or function. I was about resigned to dragging out my router and carpenter's glue when I stumbled upon your website!

WOW! Custom made, AMERICAN made, and with a custom tolerance down to a 1/6th of an inch! Just what the doctor ordered. Seemed a bit expensive to me at first, but when I added up the materials I would need, and the tools I would need to drag out, and the skills I would need to re-familiarize myself with, these shelves were indeed a bargain.

I ordered two shelves to solve our immediate storage issue, and then waited for them to arrive. If the quality was all it was said to be, I would be ordering more. The shelves were stated to arrive in 2 to 3 weeks, so I was resigned to be patient. Then, I was pleasantly surprised when the shelves arrived in only 9 days! WOW again!

My first impression was your packaging! WOW, three times. Each shelf was carefully wrapped in stretch wrap, then all shelves were wrapped in stretch wrap, then the whole thing wrapped in bubble wrap, then enclosed in a heavy cardboard box with additional Styrofoam to protect the edges and corners. You take no chances in your product reaching its destination undamaged!

Now, being an electronic engineer by trade, I typically don't read instructions, but prepared to approach the installation with careful measurement tools and deliberate care. After 15 minutes of this overly cerebral approach, I finally glanced at the directions. Two minutes later I had secured some masking tape from the shop and tacked the sliders down to my shelf. A few twists of the screwdriver and voila! Shelf installed. The second shelf too just 5 minutes. Sometimes it is better not to over-think these things.

We now have a functional space that we can now use efficiently, in place of the deep, dark, unusable pit we had before. WOW, and WOW!

My wife arrived home and rewarded me with a lovingly stated "my hero", to which I took my customary bow.

I have just now ordered another smaller shelf that will become a new kitchen drawer, and then, just underneath your dual 27" trash slider. These two items will fit in the opening once occupied by our long defunct trash compactor, and add the utility of a drawer, as well as hide away our current trash and recycle bins. I am looking forward to another easy custom installation, and another "my hero" from my honey!

It is refreshing to know there are still companies that take pride in producing a quality product, made in the USA.

I salute you!

Best regards,

Eric Abbiss
---
Steve,
Attached are pictures of our pantry with your sliding drawers. Before we were always "losing" items that were in the back of the pantry. Things were made more complex since part of the pantry was cut out to make room for a clothes shoot. To keep the installation simple, I used the existing shelves, added 1x3 side rails to attach your shelves to and in a few hours the problems of lost pantry items were resolved. Your drawers were well made. I priced out a professional installer and they wanted $1300 to accomplish the same thing.
Thanks,
Frank
Pantry with new drawers!
(Click on the picture for a larger view)
---
I just installed the second set of shelves. You make a great product and I will recommend it to all who ask.

Thanks,
Todd Hansen
---
Hi, last week you sent us 2 pull out premium shelves and my husband
installed them this weekend. Worked out great and we have already referred
you to our friends. Thanks.
Marla and Rich Williams
NJ
---
Your products have been fantastic. We started off by ordering 2 shelves about 2 months ago. After we received and installed them, my wife and I started thinking of other places we could use them. Long story short, we will have installed 7 of them when we receive or latest order. Your products are well-built and easy to install.

Thanks again for your assistance.

Jim
---
Hello,
We recently purchased shelves from you that my husband just finished installing. He did a little modifying and made them double-decker. Thought you might like to see photos of the finished job (which I've shared with my online sewing group).
Thanks,
Cindy & Charlie DeLong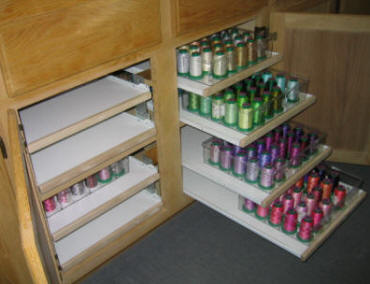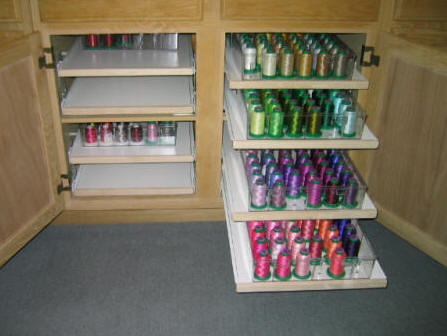 ---
Hello,
I have been meaning to send your company a big THANK YOU !
I ordered the shelves for my 82yr old Mother. They were delivered quickly, were well packed and easily installed.
Your product is well made and added tremendously to the quality of my Mother's life.
Thank you for your time and consideration,
Lynn Ucci
---
Dear Sirs:
No questions, or complaints, just accolades. I ordered several shelves, eight of them, plus tip outs last January. I got the tip outs installed quickly, but left the shelves until just last week. Family matters and medical issues intervened, but finally I got to them. Your installation instructions were just right. I had no trouble installing any of them. I did the lower shelves first, and the only hard part was the awkwardness of getting inside the cabinets. But, they went in perfectly. I installed the upper ones (on a half shelf) a few days later, with absolutely no trouble. I love them! I ordered the premier models, and they are just what I wanted. I just wanted to tell you how much I like your product. We can't afford new cabinets, but updating these we have makes them much more usable. Thank you for your product.
Sincerely,
Laura Brewer
---
Hi,
For many years I wanted a new flat screen TV but I could not fit one into my beautiful old TV armoire. I was unwilling to give up my old armoire so I bought the new TV set and and cabinet to set it on and then ordered 3 custom shelves from you which I planned to have my contractor install into the armoire. My contractor installed them yesterday and it turned out just perfectly. The shelves fit in perfectly and I really love it. I now have a place to store away out of sight my scanner/printer and lots of other office 'stuff' too. But still the printer is so easy to get to - it is just
perfect.

The armoire had doors that slide back and stored inside the cabinet. So my contractor fixed them in place so they no longer slide - but still open and close - by running screws through the carrier piece into the side of the cabinet. He then built out the sides of the cabinet so the drawers clear
the doors and hinges and voila - I have a lovely piece of furniture that perfectly matches the other pieces in the room - all for the price of three
drawers. What a great product you offer! I am just delighted (lucky I have a smart contractor).

Thank so much
Liinda
---
I just wanted to let you know that the shelves installed perfectly. They were made well and exactly to specifications and I received them earlier than I expected! These sliding shelves are just what I wanted for storing my CDs. They look great and I have recommended your company to others. Thanks for being all that you advertised on your website!
---
My beautiful premium shelves have just been installed and they are wonderful! My contractor recommended you, and I am so glad he did. I used to open my pots and pans cupboard and stuff would just fall out, and I had to get on my knees to sort through the back of it. What a difference these sliding drawers make!
Thank you,
Lori
---
Steve: Thank you so much for your quick response when my boxes were made the incorrect size. I received the correct boxes and I installed them and I am very happy with them. Thank you so much. I will be sure to recommend your company to my family and friends.
Sincerely, Darlene J Hales
---
We received the shelves - all in good condition. The hints to install helped me a little bit. I am not a finish carpenter. But, I have enough experience to figure most of this out by intuition.
I will go on your site and give testimony to your product. My wife still can't believe that we didn't do this eons ago! The shelves are fantastic. My neighbor said that we could have had another neighbor build them for us. I told her that we couldn't even BUY the material for what you charged us to CUSTOM size these for us!
We are going to showcase these shelves to some of our neighbors. And, no commission from you required ! ! ! !
It is nice to do business with someone that makes a good product. We debated a bit about paying the extra for the full-extended hardware. But, as it turns out, this would have been a waste of $ $ $.

Thanks,

Tom Gilles
---
Hi,

My shelves arrived yesterday, and I installed them this morning. Most important, they fit and work just fine.
The only negative -- I found your written instructions a little confusing. Pictures might work better. I found it easier to ignore your instructions
and just start installing them.
best regards,

Pete Chasar
Brookings, Oregon
---
I just received the order about an hour ago. I've already installed and
it's a smooth slider. Nice work and so easy even a "Cave man could do it"
Thanks for your timely delivery also.
Ray Elkins
---
Gentlemen,
I received the order on Friday and have installed them. They are beautifully made and work great just like the others I bought years ago. Everything fits fine. Thank you for a great product.
One request......My original shelves came with plastic door protectors for only one side of each drawer and consequently have left a few scratches on the doors. I would like to get 4 plastic things for my original drawers. Let me know if you need a check for these.
Thanks again,
Ernie Weber
---
Just to let you know, your good customer service last time (I under-ordered shelf clips) persuaded me to purchase more shelves for our kitchen. That and the fact the shelves are a boon to organization.

This time I ordered 16 clips for four shelves. My math has improved.

H. Weller
I ordered seven premium pull out shelves for the bottoms of our kitchen cabinets. Everything came in one large box, including all of the mounting hardware and installation instructions. Once I figured out that CL and CR on the slides indicated which side they went on, it was just a matter of lining up the door side first so the shelf cleared and then mounting the opposite slide. Then I made sure the shelf slid in and out smoothly and attached the center screw to hold everything in place. It could not have been easier. My wife loved her new bottom shelves. Now I am a big hero. Thanks

Chuck Zumbaugh

P.S. She showed her friend. Now they want me to installed them for her
---
Hi, Just wanted to tell you how happy I am with the shelves that I ordered. They work perfectly, are very good quality and have great workmanship. My only regret is that I did not get them 20 years ago!
---
Thank-you so much for your great service! The.shelf came right on time and I have it installed in the basement storage of my motorhome. It's great to have sliding shelves in these areas for better accessibility. Could be a good advertising strategy for you ...Sincerely, Rick Long
---
Just wanted to drop you a note regarding our shelves. They fit perfectly, and were pretty easy to install.


Great product and I told all my friends about you guys.

Dave
David W. Lewis
---
Hi Folks, ... the pantry worked-out great! The shelves fit perfectly, look great and for the first time since we have lived here (10 years) we can find things in the pantry without taking everything out first. It's great!
Jay Carsman
---
Hi Tim,

I've been busy with this little project. I thought you might like to see it. I ordered them from a place in Phoenix called Shelves that Slide. They
have a website and the products seem well made and reasonably priced. I bought the wire shelves from Lowes. I like them a lot but the sizes are
very limited.

I don't think I'm exactly competition to your work. But, after my back stopped hurting, I felt pretty good about the whole thing.

Jay





---
Just a quick note
thank you for sending me the plastic end pieces quickly , the shealves looked very good and were of high quality and easy to install thank you Malcolm Abbott
---
Received the shelves and installed them. Great product! I do need 7 more of the white "plastic things". My cabinets have two doors each so I only have enough for half of the doors.
Dave Waddell
---
Thanks. They worked perfectly!
---
Thanks for the directions on how to install the shelves, it was a snap. I've never had a home project this easy to install.

Thanks Ron Clark
---
I love the quality and ease of installation. I just installed them and wished I did it 6 years ago when I first moved in. All food is now visible. Case in point: when I cleaned the pantry I found some yellow Peeps in the back (and it is September!)
Cheers,
Mike McKenzie
---
Hi Steve:
I received my shipment yesterday....and .... I am so excited...you really did a great job....the packaging for shipping was amazing. Every piece was shrink wrapped ....I am waiting for my handyman to install....I know I will enjoy them for many years to come.
Many thanks!
Joyce
---
Thank you, we installed the shelves yesterday and are very happy with them.

Martha
---
Just wanted to let you know that my husband tackled this project himself and it turned out to be fairly easy. We stained them and have already installed them. They work great! I've already told several of my friends about them and one has come by to see exactly how they work.

Love your product and your customer service. I will probably be buying more shelves in the near future.

Thanks again,

Nancy

---
I received my shelves about a month or two ago. My daughter's boyfriend and my son-in-law installed them in no time at all. l I just love them. I had a blood clot that went to my heart about a year ago, which put me into cardiac arrest. I was hospitalized for two months but I have made a full recovery since then, except for the fine motor skills in my hands, and the strength in my hands I had before. My children bought the shelves for me for my birthday and Mother's Day because it was difficult for me to get things in and out of my cupboards. I still love cooking and doing things in the kitchen. And they have made doing things for me in the kitchen so much easier for me. I really appreciate having them.
Thanks so much for making things a little easier for me.
Jeanne Ruffin
Wauwatosa, Wisconsin
---
Hello Renee,
All of the order has arrived, all are installed. We are pleased with your products as shipped I am glad I took the USPS option, I can see what a hassle it could have been without the information you supplied regarding the broker etc.

Thanks again to you and your company.

Stephen Oram
Canada
---
This note is feedback on a recent order. We were pleasantly surprised at the quality and workman ship of your product. Even the packaging was top shelf.
Today's world is in such a rush that quality often suffers. Unusual to see high quality standards which your company obviously exhibits a lot of pride. I will be happy to recommend your products to anyone interested in finding a good product.
Thank you,
Paul Kauffman
---
I just wanted to write to express how much I love your sliding shelves. I am a single lady and found these shelves very easy to install with no outside help. I would recommend your product to anyone!
Thank you again.
Kim
OKC, OK
---
We installed your shelves yesterday and they are absolutely wonderful.
Quality is excellent, installation easy, everything worked out perfect. Thanks

---
To Whom It May Concern:
Re: Kitchen shelving
Being in business myself, sometimes we do not get praises for good work, but be assured we Always hear about the bad.
We received our kitchen shelves and they worked great. It has added so much additional room to our small condo kitchen. The measurements given to you were manufactured exactly what was needed and installed perfectly. Thanks very much to your sales staff. Their support was very helpful when we called for assistance.
Again thanks
Jerry & Judy Beane
Sarasota , Fl.
---
Steve
The shelves are great - thanks - you have a super packer - have a nice
evening.

Jonathan Wilfong
---
Thank you very much, Steve.
The shelves look and fit great. This is my second order with you and I really like the product. Nice job on material selection and construction.
Bob
---
VERY pleased with this shelf..... exc. quality, good hardware, attention to detail, quick shipping, fair price...............A+
Randy
---
Sandy-
I just want to let you know how satisfied we are with the six sliding shelves we ordered from you. They are installed, working fine and best of all, we feel so organized! We are happy to refer you to our friends!
Jennifer & Fred Volpacchio
New York
---
Dear Shelves That Slide,
I am very pleased to tell you that my project of shipping shelves to PA, when I could travel there over the July 4th holiday from TN, came off successfully! The shelves arrived at my In-laws at 6pm July 3rd (about 2 hours before I did) . On July 5th, we got the boxes opened and all 8 shelves installed in about 3.5 hours (including stabilizing the half-shelves and the door protectors and clean-up)! They look great and had everything necessary for installation. Thank you for the emails to keep me on track and getting everything there on time. My In-laws are already asking about doing the remaining cupboards - which I'll tackle again next year for Christmas-in-July!
EFDay
---
My sincerest thanks for your help with my recent order of two roll out shelves. I am extremely pleased with the product and would recommend them to anyone.
Again, thanks for all your help.
Tom
---
Dear Steve - The drawers came last week, and we couldn't wait to get them installed. The first day was a little rocky as we had to get all the wood strips to make the spacers and decide how to attach them. We ended up gluing three strips together which gave us the exact width we needed. After cutting the strips to the needed lengths (we were putting them horizontal so we only needed one for each side), my husband screwed the brackets to them. Then he screwed one end to the cabinet interior wall, used the level to get it exactly level before screwing the other end in. The first one took a while, but then the next three went up so fast I barely had time to empty the cabinet before he was ready. I spend yesterday putting the things on the shelves -- extra cooking utensils, spices, small baking supplies -- and they're fabulous. Its the one thing we needed to make our total (very expensive) kitchen makeover perfect. We're just thrilled with them, and can't wait to show them off to our friends. Thanks so much for all your advice, Janet & Gary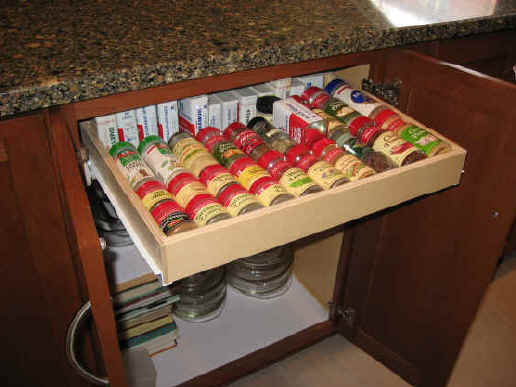 ---
Steve,
I received my order today and I just want to let you know I'm more than pleased. I installed all 6 shelves in a couple sweat-free hours; it was way easier than I thought it would be after reading the online instructions. My only suggestion to anyone else installing the sliding shelves is to beg, borrow, or rent a cordless right-angle drill driver. That tool made driving the screws in the back of cupboard a breeze.
The shelves were well worth the wait and I wish you great success.
Thanks again,
Tom
---
Whoever is in charge of your total operation should be given a "Business of the Year Award"! First, dealing with your personnel over the phone was a pleasure. They were informative, courteous, patient and knowledgeable. Second, the shelves were of excellent quality, precisely made, and installed perfectly. Third, whoever packed them could have had them delivered by dropping them from an aircraft and they would not have been damaged. It was a beautiful packing job. You all reflect customer service and customer satisfaction to the highest degree. My admiration and sincere thanks to all of you for running such a great business.
Sincerely,
Peter Hanrahan
---
"My name is Charles, and I wanted to thank you for your personal attention (and answers to my extra questions), your support team are exceptional and made me feel like a real valued customer. Keep it up and thanks again!"
Charles, Canada
---
Just a short note to let you know that my shelves arrived and are installed!!!
I love them - the quality is perfect! I will probably order more in the future and will certainly recommend your work and web site!
Many thanks, Nancy Wood
---
Steve, We thank you. What a wonderful product we purchased! The workmanship on the sliding shelves is exquisite, the full extensions solve all of the "lost space" we had in our kitchen. The products are everything advertised and more. Thanks again, Joan
---
To Whom it May Concern,
I just wanted to let you know that I am thrilled with the purchase of six sliding shelves for three of my kitchen cabinets. Beautifully built with excellent directions for the install. All parts were very carefully packed. It made the install easy and has made a very nice convienent addition to my kitchen. I will absolutely purchase from your company again, and am currently looking how I can create some new storage spaces in my other cabinets as well.
Thanks once again for the great product !!
Bruce K - Annapolis Maryland
---
I have a small kitchen, so I only had one cabinet that would work with sliding shelves. I ordered 4 shelves, which came very quickly and I was able to install all of them in about a half hour with your easy instructions. It is great to be able to easily find my pots and pans in the back of the cabinet now. No more crawling inside a dark cabinet! I am about to put my house on the market and I think the shelves will be an added bonus. As soon as I move, I will be ordering more shelves for the new kitchen! I love them and my back loves them!

Barbara

Pasadena, MD
---
Thanks so much for your prompt attention to our request. The new shelf arrived as expected and we've already installed it. We love your products and your service is first rate. I've already recommended your company to friends.

Jeanne
---
Dear Sir/Madame or who it may concern, thanks for the great job of slide out shelving, here are some pictures they work great, use pictures if you like for advertising, I image you have lots, they installed nicely, we stuck them down first with 2 sided tape and checked fit, then screwed them down, thanks again from Jerome & Nadine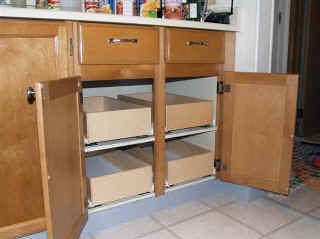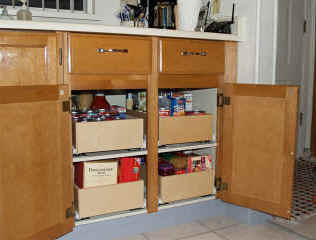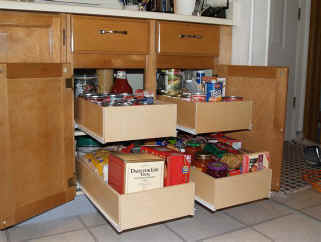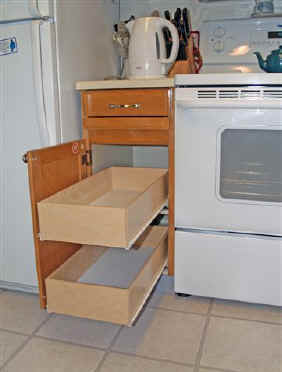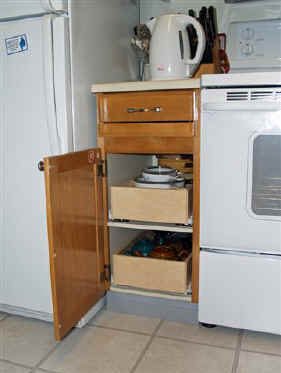 ---
I just finished installing seven of your shelves in what we call a "food pantry." I am very pleased with the quality of your product. The fit is just perfect. It took me four hours because I had to put spaces on one side to clear the door. I encountered no problems at all. My wife is very happy now that she can reach all the items that are in the back of the shelves. It's amazing what we found had stored out of sight that was overlooked for quite a while.

I have attached a couple of photos that show the installation.


Thanks.


Mark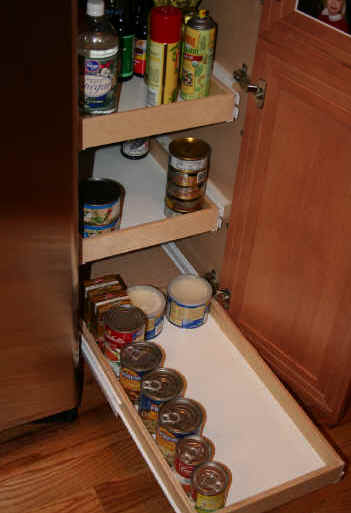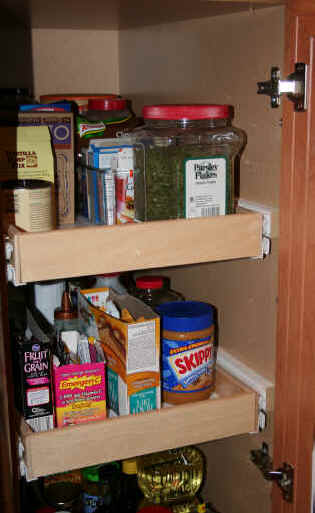 ---
Dear Folks—sliding shelf arrived a day early and is all installed and ready to go for our opening on the Thursday. Thanks so much for your help. Really appreciated your help.
Barbara
---
I have ordered several of your shelves and am delighted with them. I have been able to install them myself despite being a 74-year-old great-grandmother.
---
Dear Sir:
We have installed the three sliding shelves in the above order and are highly pleased with the result……………..the workmanship and quality are superb and the shelves were manufactured to our exact specs and fit perfectly in place.
You are to be complimented.
An idea with regard to the section "secure the shelf": your suggestion is to "place a couple of screws in either the back or side walls ………". I do think a better idea would be to secure the shelf using one or two small right angle brackets…much neater and probably more reliable.
George
---
The previous (12) sliding shelves that I did purchase are already installed and I will say this. They were excellent quality and delivery was on time
and cost of delivery was very reasonable. I was a little leery of ordering these over the internet but I would and will recommend your company and its products to all my friends and anyone who visits the house and takes a look at the finished product. Customer
service was also excellent including this very timely response.

Thanks Glenn
---
Steve and team,

The shelves arrived Friday as promised. After taking my time to get the first two right, I got the hang of it and the rest went in quickly. Your instructions were great! The fit was perfect. Thanks for making this a great experience for my mom and me.

Warren
---
Please add my name to those who think that your sliding shelves are the best shelving that I have ever installed. The ease of assembly and installation was surprisingly simple, but more importantly the quality is superb. You have a great product and you can quote me.
John Coard
Chesapeake VA
---
Just a quick note to say what a great product... easy to install andhigh quality. Thanks!

*************************************
Bryan
---
I have to tell you this is best experience I have ever had with ordering
ANYTHING and especially dealing with the trades/contractor...I use to be a
painting contractor and I know how ridiculous things can get between
customer and contractor...so far you guys are by far the most professional,
most helpful and the most INTELLIGENT people I have ever worked
with...period. Dave
---
Hey Folks,

I received the 17 shelves yesterday, and have 12 installed now. That's in addition to those first four you made for me which was my "test" order. Ya did good. The shelves fit, there's lots of mounting hardware, the instructions are very good....Oh yes, on that point :

- We recently purchased some wooden blinds for this new house, and the instructions said things like "choose the mounting position for the mounting brackets and mount them". Huh ? HOW ? Your instructions say HOW ! Great....thanks.

- My upper shelves are the hardest to mount, I find. They're all half shelf supports, hardwood, and there's not much working space. I found it easier if , instead of screwing the backs in place as directed, I first used a pencil to mark the rear bracket location (after following your directions on the front brackets of course !) , then drilled guide holes for the screws, then screwed the rear L brackets down. I just couldn't get enough leverage to start the screws without first drilling the guide holes.

The order is correct too... (this time!) All the right shelves and mounting kits, lots of 1/8" spacers, and I like the nylon door guards.

So...totally satisfied. Thanks for the help in upgrading our kitchen. Much appreciated.

Doug, Oro Valley, AZ

---
I just received my shelves and my husband installed them, which was a snap. I was so very very happy with them. They fit perfect and look great. Thank you for a great job.... These days you get very few online companies that you can trust but yours was great and I would recommend Shelves that slide to everyone!!!
Very Satisfied Customer,
Lucille
---
Our custom sliding shelves are of exceptional quality, as promised.
Gene, Joanna
Denver
---
Steve,
I received the shelves yesterday about noon and was able to get them installed. Today is our 38th wedding anniversary and my wife, Connie, is so proud of them...She just keep checking them and marveling how easy they work and how much easier it is to access the space in the back of the pantry.
Your team sure pulled me out of a tight place. THANK YOU SO MUCH. We are VERY SATISFIED!
Taze & Connie
ps If we can ever recommend your products to any one please let us know...
---
My shelf arrived today, right on schedule!

In summary:

Web site easy to browse, easy to order.

Order to delivery in under four weeks, even with Christmas and New Year holidays. (Just as said in web site estimate. "Ships in about two to three weeks from order date.")

Product arrived as scheduled via UPS.

Shelf very well packed, perfect condition, perfect dimensions, detailed instructions, plenty of screws, installed in about 30 minutes.

Thanks very much!
Mark
Seattle, WA

---
Hello, I just want to tell you that we received our shelves and we absolutely love them. You did a fantastic job.
Thank you!
Eva Sacramento
---
Just wanted to say thank you for my order! What a fantastic service you guys provide. I had this really awkward storage area in my stair well that was really deep. We used to just throw stuff back there. I started looking on line for shelves to put in there and came across your site. When I received the shelves, I was pleasantly surprised at their quality. I was thinking it was going to be hell to install them but we had them installed in about 15 min. I am one happy customer so thank you very much!! My husband was even happy and he was skeptical about ordering the shelves on line. You guys rock! Lindsey Maxwell
---
Loved the first shelves, installed in minutes. Should have done this years ago. Waiting for next 4 shelves!
Thanks Rick!
---
Hi There,
I received the above order last week and installed the four shelves over the weekend. The shelves are GREAT. You should all be proud of the quality and the craftsmanship of your collective work. Also, your customer service component in terms of providing information on the order, i.e., construction time line, shipping and billing information was very good.
I would recommend your company in a "heartbeat."
Thank you much.
Jay Fiedler
PS; You got a great web page to boot!
---
We received our new shelves and as always, they are just perfect!
This was actually the fourth time we have ordered from you. We have purchased and installed your shelves in our last 3 houses and have always been very pleased with the quality and price. We have had you ship them to us in California, Chicago and just received the new ones here in New Mexico. Every time they have come through shipment in perfect condition.
We do need to get two more plastic thingys from you as there were not quite enough sent with our order. Could you mail them to us at the address shown below?
Thanks so much,
Laurel P
---
Hi Folks,
I received your shelves yesterday and installed them. Your product is everything you advertise them to be. They were of high quality and easy to
install. I thank Mark for his help and appreciate a good product. I highly recommend your rolling shelves to anyone..
Thanks Mr. Rinaldi
---
Dear Shelves that slide:
A few months ago I bought a couple of slides from you guys to install in my kitchen. You not only sent the right slides but all the hardware and some good instructions. After that nice surprise I decided to buy seven more slides for the kitchen and bathrooms. Once again the slides all fit, I got plenty of hardware, the drawers were excellent and I am completely satisfied. The reason I am writing is that I don't normally get such good service when I buy stuff off the net. You have a great system, thank you very much.
I used duct tape to position the slides before screwing them into place which seemed to work well. Also, I have a 90 degree offset attachment for my drill motor which was extremely handy for screwing down the slides in a few tight spots
My oldest daughter just bought a new house and is trying to convince me to install your slides and drawers in the new home. If she is successful,,,I'll be back!!!
Thanks,
Fred Smith
---
Thank you so much for the wonderful shelves that slide. I have a bad knee and was having a difficult time reaching items stored under my counter. With the sliding shelves, it's a snap! You product is very worthwhile and very well made. I'm very pleased that I found you online. Thanks again!
Marge
---
I just wanted to add my voice to the many testimonials. It has been some time since I ordered 4 shelves-that-slide for my kitchen. I live  
in a house that is 100 years old and still use the original metal kitchen cabinets because I like the way they take paint (currently  
they are a gorgeous periwinkle blue) and because I really cannot afford a complete kitchen make-over. I have to say that next to the  
dog door, my favorite thing in my house is the shelves-that-slide in my kitchen! I use them daily and never fail to appreciate them,  
especially because of the many years I spent kneeling on the floor, trying to find things at the back of my cabinets. Your shelves-that- 
slide have made everything so much more accessible and in some magical way have increased my storage space even though my cabinets  
are the same old ones I've always had. Also, my experience with your company was great. The packing on one of the shelves had come loose  
and there was slight damage to one of the shelves. Before I knew it, you had sent a replacement. 
Thanks for great service and a GREAT  
product.
Carol in California
---
Hi,
I just wanted to let you know that the shelves you sent are great!! They fit perfectly, and the quality is excellent. I couldn't be more pleased. You even covered "what is the little white thing for?" in the instructions, right after I said the exact same words to myself. Nice touch. I've just ordered two more.
Ed
---
Just a note to let you know that we are extremely happy with your sliding shelves. The shelves give us more then twice the usable storage space in our new manufactured home.
My wife and I are in our seventies and we found it difficult to reach to the back of the upper shelves in our lower cabinets and the lower shelves were impossible. Now everything is useable.
I am glad I found your product.
Robert Z
---
I just got the shelves that I had order and they are in place and have placed a 2nd order to finish my island pull outs.
Attached are enclosed photos with my helpers.
They installed and worked great!
Deborah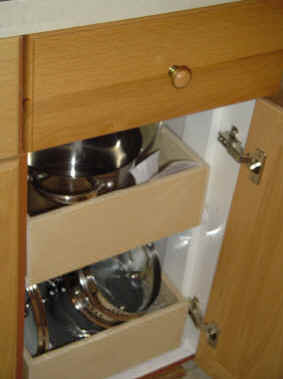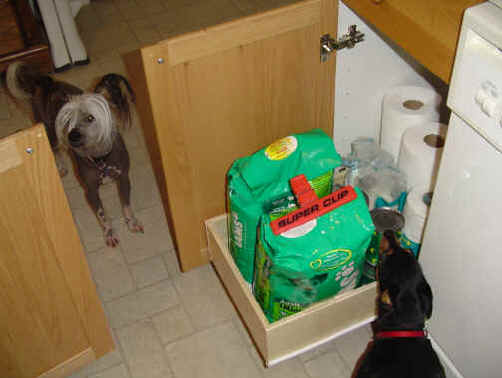 ---
We installed our 13 shelf order of 3/11 this past weekend. Everything went wonderfully. We are extremely pleased with the added function it gives us in the kitchen. The only problem is that we forgot one space that needed another 4 drawers. I ordered them online today.
Thanks for a great product at a reasonable price, shipped right to our front door. We're lucky we found your website.
Henry & Phyllis
Arlington, Texas
---
Just received my first shelves today - half shelf mount and a full shelf mount. Really impressed with the quality and ease of installation. Gave up an hour of gardening to get the full shelf in.. Can't wait to get the half in and place an order for the rest of the cabinets. My last kitchen had sliding shelves in every base cabinet and I have sure missed them since I moved. You saved the day!!
Karen
---
My order was received today and installed this evening. Very nice product
and a good transaction. I wish I had ordered them two weeks earlier, but
you guys did great.

Thanks
Bob
Montclair, VA
---
I just received my order yesterday... four shelves - 2 full, 2 half. I used to make my own 20 years ago but that was long ago. When I spoke with you a few weeks ago, I said if I liked them I'd be ordering more.
Where have you been??? Just what I've been looking for! The first two were for a very critical location and installation was a breeze (except for getting up off the floor). As soon as my pension check gets deposited in April I've got the web order ready to go for at least six more.

John
Hoosick Falls, NY
---
Just got my shipment of shelves and installed them. Thanks for an excellent experience. Your website is good; your measurement
instructions were precise and resulted in a precise fit. Turnaround was as fast as could reasonably be expected for custom work, and packaging was done carefully. In fact, one of my boxes apparently was dropped and the largest drawer, without support from any neighbors the same size, got a sprung front lip. It was easily repaired with a couple of drop of glue and a couple of clamps. The quality was excellent for the price. Good work!

One small suggestion. My installation was very easy: just fastening them to the bottoms of some cabinets. My last four drawers took only
minutes, once I found a slight better method. Next printing, your instructions for this situation could be simplified even more :
Assemble the left and right slides to the drawer and place the whole thing exactly where you want it to end up. With a pencil, trace the
position of the front of the slide rail. Remove the drawer. Put the rails in position and drive a single screw through the front support
plate of each. Now put the drawer back and check position again. When the rear of the drawer is perfect, carefully remove the drawer and put a
screw in one of the side-to-side holes, tightly. Check the drawer again just to be sure, and adjust if necessary. Add one more screw in back on
each side. (And don't forget the plastic thingy.)

Thanks,

Glenn
PS: The wife is already planning to improve the kitchen at our summer
place. I'll be back to you soon.

---
Though it has been a year since I finished my "little" project, I'm happy to say that your shelves (all twelve assorted sizes of them) continue to operate as well and efficiently as the day they were put in. Belated thanks for your help with ideas and guidance in converting my closet-type pantry into a work of art and envy. Here's a couple of photos to show the finished pantry.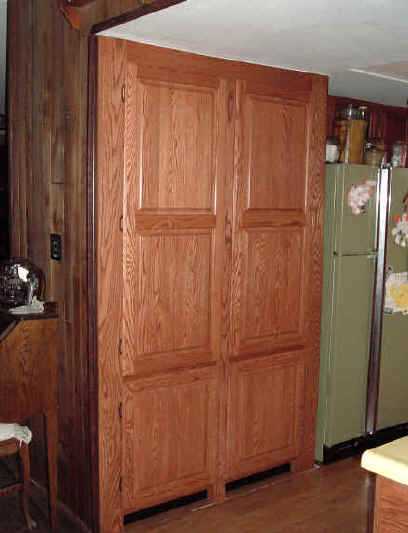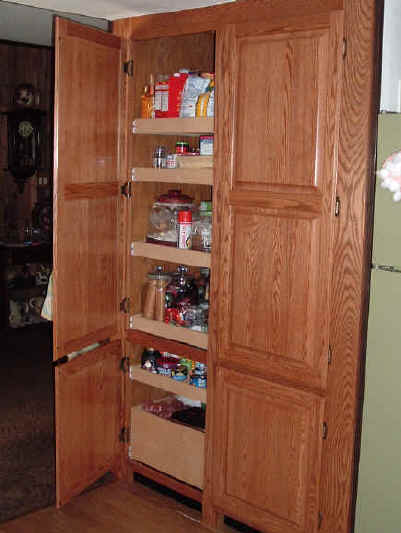 Thanks....
Ed
Colorado Springs
---
Just a quick note to say what a great product... easy to install and
high quality. Thanks!

Bryan
San Diego, CA
---
I have to tell you this is best experience I have ever had with ordering
ANYTHING and especially dealing with the trades/contractor...I use to be a
painting contractor and I know how ridiculous things can get between
customer and contractor...so far you guys are by far the most professional,
most helpful and the most INTELLIGENT people I have ever worked
with...period. Dave

---
I received a shelf yesterday and installed it...I wanted to let you know it is fabulous...I wanted to see how you conducted business and the quality before I ordered more...I placed another order about 30 seconds ago. Your shipping guy/girl is excellent...I hated to open it ...it looked so cool just packaged.
One slight problem (not yours) I misplaced the little plastic things...I will tell you I tore apart trash (like the compactor)...looked in the box...the garage ... my bed you name it...sort of like one of your socks lost in the dryer...I do not know where they went but they are long gone...I wish I could find them just to know where the hell I put them. Anyway if you can either with the new order or in an envelope ...please!
Fabulous job again...I will refer you guys like nobody has been referred before....Dave

---
Hello -
I just wanted to add my name to your list of very satisfied customers. Not only did the entire process - selection, ordering, delivery and installation - go exactly as advertised, but I was very satisfied with the quality of the product upon delivery. Not to mention a "check" on the honey do list. This is one of those times when a company delivers exactly as advertised. Thank you.
Frank Kesman
---
I am a 75 year old lady who just completed installation of two shelves. They are wonderful.
Thank you.
---
I wanted to take a moment to thank you for your product and your service.
The shelves are wonderful! We've shown them to everyone and they are a hit.

I also wanted to thank you for your excellent customer service. I really
appreciate your help when I needed additional brackets.

Between your excellent product and wonderful customer service, I have been
signing your praises.
Thanks

Jim Docter

---
My shelves came yesterday and I installed them today. When I unpacked them, I knew that this was going to be a good experience. The packing was so well done, almost a work of art. The shelves were great. Excellent construction. Everything fit. They look wonderful. We are very happy with the quality. They installed very easily. I got the instructions off your web page, and they were easy to understand.
Thanks for a good product, and excellent service.
Ned
---
Thank you for providing this superior product. I ordered two large sliding shelves with full-extension slides about a month ago and finally got the chance to install them this past weekend. (They arrived quite promptly about two weeks ago.) They are wonderful and work perfectly!
My cabinets came standard with sliding shelves so I know how great they are. I recently saw a show which featured a toe-kick drawer for extra storage of items such as platters, dish towels and place mats. Since I have a small condo kitchen, I figured this would be a perfect way to get a little more storage space. After researching the idea, I found your website so I thought I'd give it a try. Your sliding shelves have worked perfectly for this application! All I did was add on a piece of painted finish wood to the front to finish off the look of the toe-kick.
I can't tell you how excited I am about this idea and about how well your product works. They are beautifully made shelves at a very reasonable price. Now, I'm thinking about adding pull-outs to the floors of my cabinets. (Right now, only my shelves slide out) and you know I'll order them from you!
Thank you again!
Kenny
Arlington, VA
Here is the follow up letter and some pictures
Hi, Steve!

Attached is a zip file of pictures I took of my completed toe kick drawers using your sliding shelves. Unfortunately, I didn't think to take pictures of the installation but I think you can imagine what that looked like. But, basically, here's what I did.

Since my cabinets do not have a floor under the toe kick (The sides sit directly onto the floor) and my kitchen floor is tiled which runs under the cabinets as well, I ordered the side mounted shelves. There's only about 4 inches under my cabinets so it was a tight squeeze to pre-drill and screw in the rails but with a little dexterity and persistence everything worked fine.

Here's a tip: I made a block to sit the rails on so I could guarantee the proper height at which to mount each one and I didn't have to measure or use a level. And by mounting the rails flush with the front of the cabinet, everything came out aligned. After I had mounted the rails I realized that one of my cabinets wasn't square so I needed a spacer to keep the drawer set on the rails. But that's the only adjustment I needed.

For my installation, I decided to install the shelves about an inch above the floor because of the rug. This also allowed me to keep the half-round in place which maintained the finished look of my cabinets and made the drawers even more inconspicuous.

After the drawers were installed, I went to my local Home Depot and found some 3" finish moulding. (It actually measured slightly less) It was flat on both sides and had squared edges. Very simple wood but it was not made of pine and had no knots. I picked this because it would match the smooth look of the laminated particle board which makes up the other parts of the toe kick. Once I got a service person to cut it to size, I took it home and painted it with black semi-gloss paint. (This matched the finish of the original toe kicks) After the paint dried, I centered and mounted the moulding strips to the front of the drawers with screws (Through pilot holes drilled from the inside of the drawers, of course.)

I opted to not use any fancy closing mechanism like a spring-loaded magnet lock or whatever. The space was tight so I opted to just use a simple black handle which blends in with the color of the toe kick. It's virtually undetectable unless it's looked for.

From the pictures, you can see what they look like closed as well as open. There's not lots of space for storage of items with any height but it makes for a perfect place to keep serving trays, shallow platters, dish towels or table linens which, in my case, I didn't have a good place to store them.

Some of my friends were wondering about having storage that close to the floor but I don't have any problems with bugs or water. When I cleaned out the space, I didn't even find spider webs surprisingly. I only found dust so I figured it was safe to put things down there.

I hope this helps you out and I hope that you will get other clients who want to add this feature to their kitchens.

Thanks again for the great quality product and service! I will definitely recommend you to others!
Great job Kenny, I bet others will like your ideas as well!
---
I would like to compliment you and your company on a fine product and excellent service and support. My first order from you was placed last year, your customer service help via the internet was outstanding. The whole process of ordering, checking that I had correct sizes all went so smoothly. Each and every question was responded to in super fast time. The order arrived on time as promised and installing the shelves proved as easy as quoted. You provide a quality product with outstanding customer service and I can highly recommend your company. I am making a repeat order of another 16 shelves today and thank you for the help given sizing this order also.
Thank you again for your assistance and for providing a source for a quality sliding shelf product.
Yours truly,
Jennifer
---
Steve: Am enjoying our shelves mucho! Didn't get them installed right away - it's summer, consequently too much to do. But when I did get to
it, found it to be simple, fast and successful. We summer here in WI and winter in Green Valley. Plan to take a look when I get back and see
what else we can do to make life easier on my back and knees! Arlene

---
Just wanted to let you know how please I am with the shelves I ordered from you. They are fabulous. I had originally order a pantry unit insert from another company. Not only did it NOT work, it was double the cost of your sliding shelves!! I was so happy when I was able to return the pantry insert and purchase your sliding shelves. Great product\...Thanks again.
Diane Sullivan
Bensalem, PA
---
Steve....
The shelves are FABULOUS. They are installed, fit perfectly and the pantry cupboard is a thing of beauty.
thanks so much for your help and guidance and, most of all, for a superior product.
sue
---
I received the shelves this afternoon, and have already installed them. They fit perfectly, and my new pantry is ready to use.
Please convey to your owner how easy these were to install. Frankly, I didn't need much instruction. I just put them in, adjusted as needed, and was ready to go.
Thanks again,
Sandra
Oklahoma City
---
Just wanted to thank you for a good product. I painted the shelves white to match our kitchen cabinets and they turned out beautifully. Installation was as you described and they slide perfectly.
Thanks again for a great product
John
Panama City, FL
---

I'm very impressed with your quick and helpful reply. The large photo made it very clear. Thank you. The shelves are in and work great. Now
that I'm an "experienced " installer, I'm quite sure that I'll be ordering more in the future. Your company makes a great product and your service is obviously excellent.
Sincerely,
Mark
---
Sorry it took me so long to thank you for getting the instructions to me. I ran into a few more problems, so didn't get the installation finished until a couple days ago. Now that I know how to do it, I'm about ready to plunge in again. You'll be getting another order from me soon - your shelves really are wonderful.
Ann
---
Installed the shelves today. Between the design of the cabinet and the shelves, we lost four inches of storage width. However, the extra depty more than made up for the lost space. What was once a crowded pantry is now a pantry with room to spare. Surprised the hell out of me.
Roger
---
I had told my husband that I wanted sliding shelves in the cabinet under our cook top for a Christmas present. He researched these extensively on the Internet and was really impressed by what appeared to be quality in your product. Of course, it's sometimes hard to tell just by a picture and a company can say just about whatever it wants to.
I simply cannot even begin to describe to you how completely happy we are with your product. The shelves not only look beautiful, but they slide extremely easily and are a pleasure to use and we've just ordered them for another cabinet as well. I also think they far surpass the quality of what we've seen as options in the kitchen departments of places like Lowe's and Expo, as well as vendors at various home shows we've attended. The pictures and description of your product on your website very definitely lived up to the promise.
Thank you for a very well-made product.
Mona
---
I greatly appreciate your help. The other shelves are wonderful. Never would I go elsewhere else for shelving. I just should
have ordered the 5th one originally. I thought I could make do with a basket, but I'm spoiled by your shelves into wanting nothing else. I also appreciate that I was able to install them myself as my husband is in the middle of a year's deployment in Afghanistan and I couldn't wait any longer to solve the kitchen storage problem.

Mahalo,
Linda
---
I don't usually write testimonials, but your product is so good that I feel motivated to do so. My house is 100 years old and I have tried to maintain its character with any remodeling that I do. The kitchen has metal cabinets that are probably original to the house. I like them because they take paint really well and I have been able change their color as my decorating palettes have changed. However, pulling things out to get to what is often hidden at the back is a real chore, especially as I have gotten older.

I ordered your shelves for my two under-counter storage cabinets, and even though it has been months since they were installed, they still bring a smile to my face every day. I got the deeper shelves for the bottom of each cabinet and the shallower ones for the top and they are absolutely perfect. I use one cabinet for food storage and one for pots and pans. Everything is totally accessible and visible with just a touch of my finger to pull them out. The shelves are sturdy and very well made and the slides run very smoothly. They are one of my favorite things in my house and I proudly show them to everyone. Thanks for a
great product!

Carol in Oakland, CA

---
I just finished installing the 4 standard sliding drawers.
They fit perfectly.
The packaging they came in was perfect. Not a scratch.
And they traveled all the way to South Carolina!
It only took about 20 minutes to install them.
You guys make a great shelf!
My wife loves them!!!
Thank you,
Dean Edelman
Piedmont, SC
---
Ref. my order #3300 dtd 10/22/2004
Just want to pass along the following comments on ordering from your company:
The packaging of the 4 drawers I ordered was superb - delivered on time via UPS.
Installation was just as you noted on the web site....they fit perfectly.
Thanks for the great service on an internet order.
Dick Boisseau
---
Having gotten two orders from Shelves-That-Slide, I found installation
was much easier using a Dremel Moto-tool with a 5/64 bit to drill pilot
holes for the screws. The bit will fit in one of the collets for the
Dremel and the light weight and small size is perfect for working in
enclosed spaces.

Sincerely,
Warren May
---
Hello,
I have received the shelves and already installed them. It takes a while
(not 5 minutes, that's for sure), but I am very pleased with the quality of
the shelves and the care you took with packing and delivery. We will
certainly recommend your company to others. I'm still wondering about that
corner solution, still looking for the optimum.
Thank you and regards,
Carolina M
---
Thank you so much. We received our shipment today and my husband has 4 already installed. Everything was fine except we did not receive all of the "plastic things" required. Please mail 6 more to fit our requirements. Again, thank you for a very good product.
Deanna M
Note: This order used full extension slides. The door protectors do not work on standard height shelves with full extension slides
---
We received the shelves within weeks and the quality of the product was first rate. It only took me about 2 hours to install 10 shelves and I don't know how we survived this long without them!
They fit perfectly into the openings and look like the shelves were built with the cabinets as original equipment.
I have recommended your product to many of my friends.
Congratulations on providing a great product at a reasonable price!
---
I recently ordered three sets of shelves from you, they arrived the other day and I was dreading spending unbelievable hours of time on my back, up-side down, head stuck in the cabinet, and all of the hours I thought about.

However what a pleasant surprise to find that because of the quality of your product the entire project was done in a little over an hour, my back and neck are still OK, and the cabinets look GREAT! It is a pleasure to get a product that is all that it says it is, and as good as you claim.

Hats off to you and your product (think I need a few more in a week or so, I had so much fun).

Sincere thanks
----------------------------------------------
Meixner
Richmond, Virginia

---
My order arrived promptly and after a few days I opened the box to install my shelves. They were packed like they were gold. I had all 4 drawers installed in about an hour. What a pleasure having a company with such a great website and such a great product and service.

Thank you.
Bill
---
The Shelves are great! Just finished installing them and my wife is ecstatic. The installation went smooth. Just though you would like to know!
Dennis Plessas
Gold River, CA
---
My wife loves the sliding shelves I installed for her in our kitchen. It has increased our kitchen storage space and made life alot easier. I just ordered the TV slide and swivel shelve; I'm sure we will be equally as pleased.

Frank Miller III
---
Why did I wait so long to find you? You've definitely made my life easier.
Thanks!
Carol Snow
---
Rcvd the shelf as scheduled and would just like to say that it was packaged superbly!! Keep up the good work. Dan Sterling
---
I am so impressed! My only do-it-yourself experience to date has been watching those home improvement shows on cable, but I installed my new fabulous sliding shelf in only 15 minutes. My 6, 4, and 2 year-olds "helped" me (which is why it took longer than 5 minutes!) while their baby brother watched from his highchair-- it was a cinch and I can't wait to order more-- I will use these all over my house! My husband is so impressed that he did not have to do it! Katie Schulz

Louisville, KY
---
After corresponding with Steve as to what size and type of corner shelf I would need, I ordered one. I received it in good condition and within a few days of ordering it. I promptly installed it and found it easy and fast to install. I am delighted with it and it serves me well. After years of having that shelf space virtually worthless to me it is nice to be able to see what is up there and have the ability to reach it without having to stand on a stool to do so. Thanks again, and thank Steve for his knowledge and prompt reply to my email. Judy Dugan A satisfied customer
---
My shelves are great and the installation was very easy. I will be ordering
more shelves soon, and I will be helping a friend measure and order shelves
too. Thank you very much. Darrell Lane
---
Steve,
I just wanted to send you a "Thank You" email.
I received the order a couple of months ago, I just forgot to send this email. I would like to compliment you on your packaging, they were packed like they were dishes. The shelves were easy to install, and they look great. I have attached 13 pictures for you to see. You are welcome to use/send them to other customers.
Thank you,
Howard
---
Got them yesterday and they are FABULOUS! Trust me when I say that I'll be ordering from you again SOON! Great web site! Great service! Great Product! Thanks for everything! Paul Mastin
---
I received the shelves that I ordered, installed them myself in about 10 minutes a shelf. Great product, easy to install, well made and work just as I anticipated. Thank you, Tom Kenyon(T.K.)
---
My shelves came a week ago and have been making my life easier ever since. Your packaging was incredible, the shelves were all perfect, exactly as ordered and they were easy to install even for this very inexperienced handywoman. (I ordered eight and installed them in a morning.) ............... my only complaint is that someone didn't advise me to do this years ago. Thanks for a great product!
Sally DeFord
---
Steve,

Thanks for sending us the 175lb slideout TV shelf with swivel. It turned out perfect for our TV and was very easy to install. It was just what we needed to hold our TV and TIVO unit. This is something I have been looking for and I am very pleased I found your website! You were very generous with the time you gave to explain the product. Your slideout shelf is even better than you said it would be!!! Thanks again for taking the time to walk me through the process and making sure what I bought was the right size for my needs. Be well.

Best Regards,

Peter Eichberg
---
Dear Sir or Madam:

We have just received our TV-FT815 "150 lb. full extension TV slide and swivel" shelf. It looks great and appears to be very sturdy....
Thank you.

Joe H
---
Everything arrived. Thank you very much....They are perfect. And I was even able to install them MYSELF. That is rare.
I will order some more soon.
Guy B
---
Your product is just great! I would recommend it to anyone. We have all but one sliding unit installed. We need more screws and one more plastic door protector as this sliding unit goes behind double doors. Can you please mail this to me? Thanks again for doing a wonderful job in making these "perfect" and so easy to install.... Sincerely, Marie Indianapolis, IN
---
I love your shelves. I have a breakfast bar with a large cabinet with a half shelf. I was able to install shelves that slide in both sides of the cabinet and on the base shelf and the half shelf. They are great. The items are easily accessible and the shelves are very sturdy. Best of all, I installed them almost by myself - my husband held the level. Thank you for this wonderful product.
Karen
Clifton Park
---

Steve, I just wanted to thank you for the great work on our new shelf. It matches perfectly our custom built cabinets. It took about 15 minutes to install and it looks and works perfectly, in fact it is a better shelf than our expensive custom sliders. And who ever packaged this for shipping should get a bonus. I have never seen something so carefully wrapped and boxed. I have a feeling we will be back in touch with more orders. We thank you very much for your excellent work and service. Gary and Jeanmarie Atlanta
---
Just a note to tell you that I received and shelf and installed it easily and it works just fine. Many thanks for your help. You might want to keep it in your " store" for future sales.

Bob
---
Steve, by the way I forgot to mention that I am very pleased with the
shelves, very high quality and well done and price is good also, tell your
boss! Ciao Carlo
---
I received my order. My shelves are beautiful.
Thanks for your assistance.

Linda
---
I want to let you know how pleased my wife and I are with the trash system.
I installed it in about 30 min and it works great. I've already shown it to
my neighbors and they want one too. You may be getting an e-mail from Barb
B about the same system that I purchased.

I can't wait to get the shelves.

Thanks again for your help, and please feel free to use me as a reference if
you need one.

Chris
---
I recently received my order for pullout shelves. I've installed
all 8 shelves and absolutely love them! I am very impressed with the
quality of the shelves and the ease of installation. I installed 6 of the
pullouts on existing shelves and it was a piece of cake to do the
installation. 2 of the pullouts are not on existing shelves, I'm
basically adding extra shelves to a deep and tall cabinet that has several
existing shelves spaced far apart. For these 2 pullouts I ordered side
mounts instead of full mounts. I installed 1 of the pullouts (bread
drawer) using the side mounts but this was much trickier, supports less
weight, and it means I can't move the drawer up or down. All of the other
existing shelves are adjustable via shelf pins. Even though it means I'll
lose a little bit of vertical height, I think I would rather install these 2
pullouts on new shelves and use a full mount.

Thanks,
Karen
---
We received the shelves we ordered from you via UPS last Thursday. An
excellent packing job kept the contents intact. I installed the shelves
Sat. morning without a hitch. Your online directions were quite
helpful. The 5 shelves now make the kitchen pantry much more
functional. Thanks for making such a good product.

Sincerely,
Rob
---
I just received my order and am impressed with the quality of your
products.
Jonathan
---
Thanks for your help about the vanity waste system, It is already installed
with out any problem.
Anabella

---
Hi there,
I received the replacement shelves, have installed them, and am VERY HAPPY!!!!
Julie
---
Dear Sir or Madam,

I finally got around to installing the shelves and am very happy with
your fine product.......

Thanks you,

Larry S
Just wanted to let you know how happy we were with your product and your instructions.
We purchased a slide out shelf that was custom for a computer center.
Thanks for being a great company
---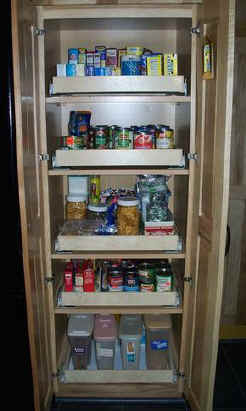 Just had to write to you and tell you how extremely pleased I am with the shelves I ordered for my pantry. I did let a carpenter install them, but they're in just perfect and look great. I cannot tell you what a vast difference it has made in finding what I need. Thank you so much.
Here's a picture of the finished pantry. Thank you again!
Gail Strong, , Gray Court, SC
I installed your basic sliding shelf in my 25 year old kitchen cabinet and it has been a great upgrade..........no more getting on my hands and knees to reach a large pot. High quality construction and hardware for a reasonable price.. Thank you very much.
---
The shelves I ordered arrived yesterday and were installed last evening. They are a perfect fit and I'm very pleased. Thank you so much for quality workmanship and timely delivery.
Dawn Murray
---
---
Hello – First, I would like to tell you how exciting it is to have my cupboards "converted" with your slide out shelves; sometimes I just go to my kitchen to open the cupboards and look at how organized and easy and wonderfully useful my "old" cupboards are now! They almost feel brand new. Thank you for such a wonderful product.
Thank you Jennifer
---
Just a big THANK YOU for the shelves. Received them last week and

they are working fine.




Will be ordering more soon! Remodeling the kitchen and need more.




Jim Pittman
---
The shelves arrived yesterday UPS delivery and I am very impressed with the
quality of your work. I got them installed and my wife is very impressed
with the new shelves. I think that we may order more in the future for some
other cabinets.

Thanks

Ed Ferguson

---
Shelves That Slide guys and gals:
I received my shipment (order number 25368) a few days ago, and steeled myself for the installation process, which I commenced this morning, and finished within a half an hour. It would have been quicker if I had ever done one of these before, but for me that was a fast installation.
One thing I did differently was drill some pilot holes for the screws. I think my cabinets are made of particle board and some sort of veneer, and I couldn't get the screws to go in without a pilot hole. Once that was done, it was smooth sailing.
Attached is a picture for your scrapbook (the bottom one is the new shelf, the top one is pre-existing).

I have lived in this house almost 20 years, and have struggled to get things in and out of that bottom shelf all that time. Not until very recently did I think to install a rolling shelf at the bottom, and then found your shelves on the Internet. It will make a big difference.
Thanks.
William Asher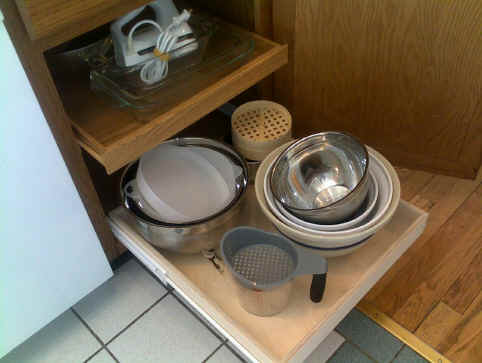 ---
We recently purchased custom pull out shelves and a stainless steel tip out tray for our new kitchen cabinets. We are extremely happy with the construction and quality of these products, plus they are easy to install. They have enhanced the workability of our kitchen.

Thank you.

Dave Stupi
---
Steve,
I received my order today and wanted to let you know I was very pleased with the way the shelves were packed. The shelves themselves are exactly what I expected. Now I have to find the time to install them so I can put some of the final touches on the upgrade to our kitchen in our hundred year old house.
Thank to all your staff for a fine job. I will make it a point to see if I can use any of your other products.
Tom Mooney
---
Hi,

I ordered two "shelves that slide" on 4/27/10 and they were built and shipped by 4/29; super fast! They arrived on May 5 in perfect shape and were very well packed. The installation was very easy and the quality of the shelves is top-notch. I'm very picky, but I am very happy with the workmanship and the quality of the packing to get them from Arizona to Virginia without damage. I just ordered 6 more shelves for the remainder of our cabinets and my wife is thrilled with the pull-out's! Thanks for saving me time as I would have had to build them from scratch and now it only takes the 15-20 min per shelf to install.

Happy in VA,

Roger B.
Ashburn, VA

---
S-T-S—

I just wanted to write and tell you how pleased I was to find your website and products.

I received my order last week and while a permanent shelf made one of my installations in a small area somewhat 'tricky,' the three units came to me as expected and make much better use of the lower vanity space. Installation was as easy as you'd suggested.

I found the website very informative and easy to use, as was the entire order process. Your quality of product is as desired/expected and even more impressive . . . the person who packed my order for shipment obviously takes as much care as your manufacturing staff. It's was all very refreshing to find in these days and times.

I'll be remodeling my kitchen at some point and I will definitely utilize the many options available thru Shelves That Slide.

Thank you, Steve Bolton

---
Would it be possible to duplicate my last order #012603? And thank you for having such a nice product that fits and works well. Thanks, Jim
Jim Latham
Mountain Service & Repair
---
My shelves came and are being installed right now. Everything is
excellent! However, I do need some additional "Plastic Things".
There were 7 included with the order, and I need enough to put on each
side of the larger shelves. They are the ones that are in my pantry,
which has 2 doors that open - meeting in the middle, so both ends of
the pull-out shelves need to have a plastic thing to prevent damage to
the door on each side. The 2 smaller shelves are in a cabinet that
has only one door, so one side is all that needs to be covered.
Please send me 5 more so all the corners can be protected. I am
impressed with the craftsmanship of these shelves, and they have gone
in as easily as your website said. Thanks!


Nell Summerour

Letter #2
Thanks so much for your prompt service! The needed plastic
things arrived in the mail this morning and my son (who installed the
shelves) has fixed them into the missing places. I am going to
recommend you to all my friends because of the excellent quality of
these shelves and how well they work and how quickly they install.
Thank you for making this such a satisfying experience. Sincerely,
Nell Summerour

---
Dear shelvesthatslide,
If you EVER need an unsolicited testimonial about the quality of your product, and the speed and level of your service... just let me know. I am thrilled with my shelves that slide. It makes my life SO much easier, they look beautiful, and they're pure quality.
- shoshy-half
---
I've just completed installing the four sliding shelves received under the above order and I want to say that they installed easily and work beautifully. I have one request. Two of the shelves are installed in a two door frameless cabinet and I only received two of the "plastic things". Could you send me two more please so that both doors will be protected.
Thank you,
R J Renzaglia
---
I ordered the first shelf about a month ago, then had some surgery. finally last night I unpacked it and installed it. If I can install that shelf, anyone can! It looks great! I am so excited to get three more - hopefully they will install as easily as the first one - Amy

---
Thank you for the quick reply. This is our second order and the first set installed simply and work great.
Thanks, Rich Hickman

---
Thanks, I received and installed pullout shelf I ordered, I thought the shelf was built solid and will last a long time, Thanks for making such a nice pullout shelf, and I will order from you again when my wife lets me know where she want to next pullout installed.
Thanks again for a great product.
Woody Boston
---
Steve,
Just want to let you know the shelf arrived a couple of days ago, I got out the drill and the measuring tape, and it works great.
Now I'm trying to find other places to install your great stuff.
Thank you -- and especially thank you for your help and guidance.

Tom
---
Thanks you for the door protectors. They fit perfectly.
Put me down as a very satisfied customer.

Mason Carter

---
My new shelves arrived when expected and I am highly pleased with the
quality and appearance. I am especially pleased with the "white plastic
things" that protect the cabinet doors. Can you tell me where I may purchase
nine (9) more?

In our kitchen, we have a center island and a pantry cabinet with pull-out
shelves quite similar to the one I purchased from you but ours are not
equipped with the plastic protectors for the doors.

M. C. Carter

---
The finished shelf of 17 3/4 will be correct--I cannot go over 19 1/2 inches in that area/the tallboy can go to a finished length of 25 1/2 inches so the finished depth of 23 3/4 will fit--thanks for checking--by the way we LOVE your products--they are well made, install easily-(amazing-I dreaded installing them because I thought I'd be sweating and swearing), and work wonders in cabinet access in my tiny kitchen--its rare to find an affordable item of this quality--Lisa
---
I just wanted to compliment you on a great product. I just ordered five premium shelves for a narrow, but deep pantry in our kitchen. They were well packed and arrived with no damage. They are well made, fit perfectly, and surprisingly easy to install. Based on my experience with you, I have just ordered more shelves for the remainder of our kitchen cabinets. It is nice to see a company still making and delivering quality products in this country! You can be sure that I am telling my neighbors and friends about your company. Keep up the good work!
Sincerely,
Gary Piggrem

---
Renee,
I always liked feedback on things I made or designed when I was working so thought I'd send you all some feedback on the 450# TV slide-shelf we purchased.
We've been VERY pleased.
(1) If I remember, it arrived in the time you originally quoted, and I was happy you were able to match your sister-site's price. You and also your website's information were very helpful in making the correct selection.
(2) It was packaged very well and arrived in good condition.
(3) It was very easy to install. I could only use 8 of the 12 bolt holes due to the depth of our armoire but don't think that's an issue given the stoutness of the bolts, nuts, and washers I used. We also don't use the full extension capability that often.
(4) The slide and rotating device works smoothly.
(5) It's used in conjuction with a 46" LCD Sony TV. The center of mass is set about 12" back from the edge of the shelf. The advice on your website was very, very, good. Though the TV only weighs about 50 lbs, this 450# slide-shelf system is what is needed to feel secure when occasionally using the full slide extension capability.
Before installing, we spray painted the white shelf flat black to match the other system components in the armoire. By the way, the armoire is in our main living room so appearance and easy of use is important to us. Though we were at first not sure this slide-shelf was really needed, we're very glad that we purchased it.
In summary..... the customer service was excellent, it's a quality product, was easy to install, works just as advertised, and has been a welcome addition to our audio-video system.
Thanks much,
Ed Bartchy
---
Steve,

Just wanted to say thank you.
The shelves arrived safely and in addition to being a great quality product
were packed professionally as well.
Thank you again for you assistance.

-Thomas Pampinella

---
I bought 2 shelves that slide in December for my mother as a Christmas gift. As you can see she liked them so much she and my father wanted to do the rest of the cabinets. She is 79 years old and has some back problems: the sliding shelves make it so much easier on her. No more bending over and looking in the cabinet to find what she needs. And no more picking up a heavy stack of skillets to get to the one she needs. You do lose a few inches of space, but when installing the shelves is the perfect time to clean out the cabinets and donate those pots, pans, and bake ware that you hardly ever use, that have just been taking up space. And I ordered those shelves about 1 1/2 weeks before Christmas and planned on them being delivered after the first of the year, but you surprised me and delivered them 2 days before Christmas. My great aunt just built a new house and wants to order some for her kitchen. And also a family friend that has seen my mother's shelves just had granite counter tops put in her kitchen and wants to have the shelves that slide too. I have been telling everyone at work about them too. If I get these people to order shelves that slide can I get some type of discount or gift card?


I have one request on this new order: can you please write the shelf measurements on a piece of paper and tape to each shelf so I will know where the shelves go. I have a diagram of the kitchen with the measurements so I would like to be able to match the shelf to the drawing.

Thank you,
Joanna Eskew

---
Hello,

I received my order on 1/18/2010 and I just finished installing the
shelves. I just want to say that they are excellent! These were a gift
for my wife, who hated not being able to fully utilize the storage space
of our half-shelved 21" kitchen cabinet and no longer wanted to have to
crouch down access the items inside. I looked around quite a bit and had
trouble finding any sliding shelf units that could accommodate two
shelves, fit our cabinet correctly, or be easily mounted on the
half-shelf. In addition, most units I came across were wire baskets,
which were totally unsuitable for our purposes. Shelvesthatslide.com
offered the wood construction I wanted, I was able to order precisely
the dimensions I wanted, and at a price that was competitive with
non-custom units. The measurement aid on the website made me confident
that I was ordering the correct dimensions, and the wide variety of
mounting options gave me the configuration I needed. The construction of
the shelves is solid and well done. Installation was simple, and the
included instructions were clear. I got exactly what I was looking for,
and I will definitely order from shelvesthatslide.com again.

---
Good morning.

Thanks for the response, but the package arrived at 5:00 last night in
perfect condition. Very well packaged!

My wife is thrilled at the quality.

Thanks again for all of your work.

Bill

---
Renee,
Thanks you so much for your help with my order. Thanks to you the shelves arrived in time for my guy to put them in on his days off. The quality is
fantastic and the ease of installation was great. Where can I write a review for others to see? The packing job also should be commented on. They could have been drop shipped to my house and they would have made it intact!
Thanks again for such good serviced. I will definitely recommend you to family and friends. Well, off to see where else I can use your products!!
Happy Holidays!,
Susan

---
We received our shelves today and have just installed them. We
absolutely love them! They are very nicely constructed and were not
difficult to install.
We also appreciated the quick shipment of them. My pantry has never
been so organized! I would definitely order from our company again.
Thank you and Merry Christmas!
Lora Patterson
---
Hi. I just wanted to drop you guys a note to let you know I'm very impressed and extremely happy with your service and products. It was really easy to use your site to find what I was looking for (although it's not nearly as "slick" in terms of design as higher-end web sites, but who cares as long as it works), the product descriptions had just the right amount of detail, the order process was easy and trustworthy, and the order came when you said it would. No problems! Perfect service. Then came the install...I was replacing an original pull out trash bin. Yours (model: RV5349-1527DM) is miles above any others I've seen in terms of quality and design. It was easy to install, works like a charm, and now I can impress all my friends with the coolest trash bin drawer on the block!
Keep up the good work! Thanks.
-- Jeff
---
Dear Renee,
Just a quick note to advise that the shelves arrived yesterday and we installed them. They are great!
Thanks for your help and the speed with which your company manufactured and shipped the order!
Alfred Singer
---
I got my shelves Friday evening. My husband installed them for me Saturday morning. Once he got the hang of it it was quick and simple. I LOVE MY NEW SHELVES THAT GLIDE!!!!!!!!!!!!!!!!
No more lost snacks, pasta, oatmeal, etc. I will order more for the rest of my kitchen and guest house cabinet.
Thank you so much!
By the way, I found you through Real Simple Magazine. Smart move on your part!!
Your happy customer,
Jeru Suda
Pasadena CA

---
I wanted to let you know that we received the plastic door protectors we ordered for our slide-out drawers. They are exactly what we wanted and were easy to install. I'm glad I found them on your website at such a reasonable price and will be sure to let others know about your product!
Thanks.
Pat Riessen
---
I just wanted to let you know that we are so pleased with your product and the result. Finally slide out shelves for our kitchen pantry! You offer truly outstanding value and quality workmanship in your product and the shelves were very easy to install. I also like the fact that the shelves arrived only two weeks after I'd ordered them.

Here are some pictures of the finished pantry after the 12 shelves were installed. Everything is so organized and accessible. What a difference! We will be repeat customers.

Best Regards,

Christopher Edgar
Tarpon, Springs, FL

---
I just wanted to inform you that I received my order today and the Premium pull out shelves are already installed. You have a very nice product, nicely packaged and installation was a snap.
Thank you very much,
Wayne Skaggs
---
I just wanted to let you know I got my shelves and they are great. They
were not hard to put in and really make my cabinets look great and I can
find things in them now. Thank you so very much, I will recommend you to
anyone that asks. Thank You again Kathy Albus

---
Hi Steve,
I received and installed the new drawers today and they appear to be made very well and installed with little difficulty.
Thanks for making it right,
Stan
---
Just wanted to tell you that the shelves are fantastic - good quality, built
to specs, easy installation - every thing the do-it-yourselfer needs. We
will be ordering more shortly.

Thanks again.

Apane Minwaadizin...Bimaadiziwin isa go!

Jim Starkey ('mindjime')
---
Thank you so much for such a great product. The shelves are wonderful and we easy to install because of great instructions. We are so pleased with your product. Thanks again.

JB Norton

---
Received my order. It was packed very well and the quality was outstanding. I am very handy and the drawers and hardware were very easy to install. Even if a person is not handy, the installation should be very easy as well.
Keep up the good work and quality.
IRWIN LAMELL IRWIN LAMELL IRWIN LAMELL IRWIN LAMELL IRWIN LAMELL IRWIN LAMELL IRWIN LAMELL
---
I just installed my pair of shelves yesterday, and I wanted to tell you how pleased I am with my order. The shelves work great, and I was very impressed with the way you packed my order. I will be ordering another set of shelves shortly. Thanks for your quality.
Murray Schweitzer
---
I just finished installing the 18 premium 2 ¾" shelves we ordered. I want to let you know many good things.
1. The installation was a breeze. About 12-15 minutes per shelf
2. The craftsmanship and quality is excellent, they glide so smoothly
3. The packaging for shipment made sure everything arrived in perfect shape…and everything was.
4. All of the slides were included. Many times I order things and parts are missing. I even have a lot of extra screws…
5. Most of all, my wife is VERY happy that now she can find things easily…just roll out the shelves
She says the next person that lives in our house gets all of the good stuff we do without having to do it themselves.
And, we will be ordering more as soon as I do the measurements.
Thanks for making life a little easier.
Joseph C. Jenkins
---
Just a very short note to tell you that I absolutely love your product.
In April we ordered two sliding shelves and because of company etc my husband just got them installed. i won't tell you it was a breeze to install as our cabinets are old home made ones that we just are still using. But he got the shelves installed and I absolutely love them. I was having a hard time getting to back of bottom shelf and this makes it so nice.
Thank you, Sharon Willis
---
Dear staff member at shelvesthatslide,

We are very happy with our order of five shelves for our pantry. Living in a mid-70s home with limited storage space, this overhaul is great. The shelves are sturdy, and go in and out smoothly even with a lot of weight on them.
We suspect that when the house eventually dies of old age, the shelves will be salvaged and moved to another!

Keep up the good work, a satisfied customer

Jeff A. Stuyt
---
Shelves That Slide - Just a note to let you know we are VERY HAPPY with the pull out shelves you manufactured for us! Your delivery was exactly as promised, arrived in perfect shape, the units fit perfectly, the installation was a snap, and they work just fine! VERY GOOD PRODUCT! Even though I'm 76 years old, I was able to install all four pull outs in about 2 hours - the first one took me 50 minutes, and the next three took only about 20 minutes each - GOOD instructions, and helpful hints - and good exercise for my stomach muscles!! My wife is VERY pleased with the easy access to her kitchen utensils. I used my Dremel to drill pilot holes for the screws, which worked really well, given the cramped space between the base cabinet shelves. The double-faced tape hint also helped a lot!
Thank you, and we'll recommend your products to our friends. - Pat McKoy
---
Dear Steve,
I had the shelves installed this morning by my carpenter.
Thanks again,
Fran Datz

---

Hey Steve, Just wanted to let you know that I finished my installation last week. Thank you very much for going the extra mile and helping me through my "custom" installation. I was able to remove the center stile with a pull saw and speed square. I attached the stile to the door with the blocks per your instructions. I had to use a couple small shims, but I cannot believe how good it looks! You really cannot tell that the center stile is attached to the door. I had to add a couple blocks to the back of the face frame because the slide brackets cannot attach to the face frame - the drawer would hit the center stile when closed. You may want to include that in your standard instruction set for any other newbies like me. Oh, and by the way, my wife and I both love the shelves! We are able to put more things into the cabinet and the ease of access is great. Thanks again for your help and prompt responses (even on weekends!). Regards, Bill
---
Dear Sirs,

I recently order some shelves for a half shelf installation and I wanted you to know I could not be more impressed with the quality of the shelves ,the
service I got ordering them and the ease of their installation. This was almost too easy and it made the a couple who have been married for over 60
years very happy as well.

Hat tipped for a great product and operation behind it.


Respectfully,

Keith Holcomb
---
Hi,

Well, finally I've had the shelves installed! They are very well made and will be a real help

Thanks again. Glad I found you!

Cheryl Eyed
---
I just installed your sliding shelf to my kitchen cabinet and I love it!! It was super easy to install and works perfectly. Now I'm trying to figure out where else I can add some sliding shelves. Thanks so much!
Janell Schalow
Wisconsin
---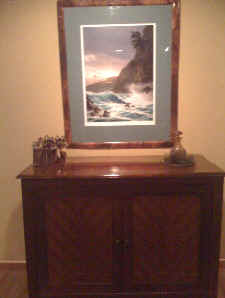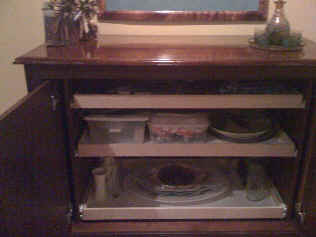 Not the greatest pictures but this is an old TV cabinet that we got from the liquidator getting rid of all the old furniture from the Royal Hawaiian aka the Pink Palace in Waikiki which has just undergone a multimillion dollar facelift. I thought with a little elbow grease and your drawers we could have a unique and
functional sideboard, and keep a piece of Hawaii history. As usual your shelves that slide are fabulous. They arrive in perfect condition, are a breeze to install, and work just exactly how I want them to!
Thanks so much!!
Carolyn and Ed Tschupp
---
Hey Steve,
Got the shelf Friday, finished the oak yesterday and mounted it today. It works great and the turntable fits perfectly. Glad I got the extended slides.
Thanks for your help,
Bryan
---
Thanks for an excellant product. The economy shelf solved the limited space available for my printer. The sliding action is very smooth and the convenience is superb.

Thanks,

Jeff Friis
Biloxi, MS
---
I just wanted to drop you a short email to thank you for the recent excellent service. I had to return a set of shelves that did not work out due to my design error. You cut them down and returned them in less than a week and now they fit perfectly. You deserve kudos both for your high quality product, excellent packaging and shipping and superb customer service.
Thanks again!
Jerry MacIntosh
---
I saw your ad in Real Simple magazine. We ordered two Shelves That Slide in late December and received them last week. They were fairly easy to install, and have made a world of difference in our cabinets. We can actually see what we have now. I only ordered two as I wanted to see exactly how they looked and worked, but I'll be getting more. I hope to do my entire pantry, and my mom's cabinets. Thanks for a quality product at a fair price!
Terri Wilkerson
---
My sliding shelves arrived on 1/14/2009 but I had to wait until the weekend
to open the boxes and install them. I could not be more pleased with the
shelves. The quality of the materials and precision construction is top of
the line and you can tell they were built by a craftsman that has pride in
their work. Each shelve fit perfectly and look beautiful and the
installation was a snap. I had looked at sliding shelves available from Home
Depot and Loews for some time but I was always turned off not only by the
price by the "stock" sizes available which did not really fit my cabinets. I
am glad I waited and found your web site and ordered the custom sliding
shelves from Shelves That Slide. Thank you for a pleasant buying experience,
fast shipping, excellent packaging and for our new sliding shelves.

Don and Pat Hardman
---
Sirs:
On Jan 13, I received the two sliding shelves that I ordered . (Order # 17355) This morning I installed them both in 30 minutes. It would have only taken 20 minutes but I had to measure and cut some wood shims for the side mounts. Wow! I am impressed. This was one of the easiest installations I have ever done, and I am not an accomplished handyman. The instructions were clear as a bell, the suggestions for double sided tape were right on the money, and the shelves were perfectly cut to fit the cabinet.
I will talk your company up to anyone I meet interested in sliding shelves. Thanks for a great product and great service. As I write this, I think my wife is going through the house looking for more places for shelving!
E L Koch MD
---
Thank you for my sliding shelves and organizers!!!!...if you need a testimonial here it is:

I am a woman pretty handy with power tools, but I'm not much of a finish
carpenter. All your products, once installed, make it look like I am! SOOOOO
easy to install!!! They are attractive, sturdy and helpful in the
organization department!!! I feel like my kitchen has undergone a huge
remodel, and I can't even see it until I actually open a cabinet!!! Thanks
again for wonderful products, great communication and terrific follow
through!!

Otamay
---
To Whom it May Concern

Thank you for processing my order in a timely fashion. I installed the
sliding shelves a week ago; everything fit very well and works like a
charm. Either you constructed correctly or I measured accurately -
apparently we both did our jobs. My wife and I are both pleased with
the addition to our kitchen.
Thank you again

John Phillips